How to Make Gravlax
This is one of those recipes where I wonder why I hadn't been doing this all of my life. Gravlax or cured salmon is super tasty and something I used to buy for our Christmas morning breakfast spread. It's on the pricey side, too, and we considered it a treat.
Well, I think we might be spoiled since I started making it at home. It's much more economical and easier than you think!
There are a lot of ways to make gravlax, including traditional Norwegian methods of burying the salmon in the ground for a few days while it cures.
Spoiler: I don't have salmon buried in my backyard.
I'm going to get this right out in the open that I'm not a Norwegian gravlax purist. I'll show you an easy way to make it that is great on its own, yet leaves you some wiggle room to experiment with flavors if you like.
Start off with some fresh salmon laying on top of a large piece of plastic wrap. I love the wild Alaska salmon that comes into stores during the summer. It's one of my favorite seasonal treats!
You'll want to find a fillet that's relatively even in thickness. (It doesn't need to be exact, though.) You also need some lemon juice, sugar, kosher salt, and fresh dill.
Don't use fine salt or regular table salt or your salmon will be too salty. You could use coarse sea salt if you like, too.
Squirt the lemon juice over the salmon, the mix the salt, sugar, and chopped dill together. Pile the mixture on top of the salmon. This will be enough for 1 full salmon fillet (around 3 pounds).
I cut it in half to make it easier to prep and to take up less refrigerator space. I'll show you in a minute.
Wrap the salmon tightly in the plastic wrap.
Stack them in a bread pan. You can use any pan you like, but using a bread pan saves you some refrigerator space.
Place another bread pan on top of the salmon, nesting inside the first pan.
Now take a few cans of something—I used coconut milk—and put them in the upper bread pan to weigh it down.
Refrigerate it for 2–3 days. The curing time depends on the thickness of your fillets. If they are on the thick side, I'd let it go for at least 3 days.
You can check on it after a couple days by removing the weighted bread pan and poking the salmon. If it seems to be more firm than it was, then it's well on its way. It should be firm enough to slice thinly and have a deep salty, dilly flavor.
There will also be quite a bit of liquid in the pan. It's ok. Just drain it out.
If the texture and taste aren't quite right, then return it to the fridge for 8–12 more hours and try again.
Slice up that salmon and make yourself a charcuterie platter! I loved this salmon on a baguette with some herbed cream cheese, sliced cucumber, and a sprig of fresh dill.
It's even great without that baguette if you're eating gluten-free. I may have had little cucumber bites for breakfast every day for a week.
After doing a little research I noticed many recipes call for vodka or other spices or even fresh garlic. I'd love to hear if you've made cured salmon and how you like to eat it!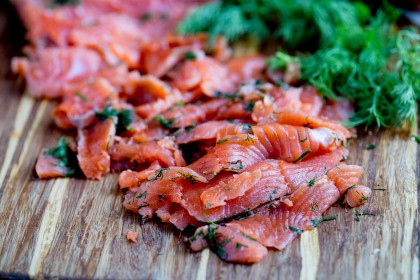 Homemade Gravlax
September 9, 2018 0
Prep Time:10 MinutesDifficulty:EasyServings:10 Servings Ingredients 3 pounds Skin-on Salmon Fillets Of Fairly Even Thickness, Either One Large Or A Few Smaller Ones1 Lemon1/3 cup Kosher Salt2 Tablespoons Sugar1 cup Fresh Chopped Dill Instructions If you are using 1 large fillet, cut it in half. Turn the fillet over, skin-side up, and make 2 to 3 slits into the skin, about 1/2 inch deep and 1-inch long.
Lay each piece of salmon, skin-side down, on its own piece of plastic wrap. Squirt the juice from half of the lemon on the salmon.
In a medium bowl, combine the salt, sugar, and dill. Pile the mixture on top of the salmon fillets, using all of it.
Wrap each piece of salmon tightly in the plastic wrap and stack them in a pan. I like to use a bread pan because it takes up less space in my fridge. Put another pan of equal size on top of the salmon, then put something in the top pan to weigh it down — like a few cans of coconut milk.
Refrigerate for 2–3 days until the salmon has become more firm and slices thinly very easily. It should have a deep salty, dilly taste. If you need to, rinse any remaining salt left on the salmon before serving.
Natalie
Natalie is a third generation cookbook hoarder and started blogging in 2008 as a way to store and organize her recipes digitally. When she realized people other than her mother and close friends were reading her blog, she tidied up the place and fell in love with sharing recipes and creating drool-worthy photos, which have been featured in many places online and in print. Natalie and her family have gravitated toward a paleo/primal-ish lifestyle over the years, which became the focus of her blog, Perry's Plate. However, they wouldn't turn down an invite out for pizza or cookies on their doorstep. When Natalie isn't in the kitchen she loves taking day trips to Lake Tahoe with her family, quilting, and, if she's being honest, drinking La Croix and Netflix binging. She lives in Northern Nevada with her chiropractor husband, three little girls, and a squishy little boy who is still trying to figure out which doting female in the house is his mother.
More Posts by Natalie (20)
Follow Natalie: Natalie's blog:
http://www.perrysplate.com/
Read More