Quick Microwave Egg Cups
Muffins, cereal, oatmeal, bagels and fried eggs. We're creatures of habit when it comes to school (and work) morning breakfast recipes. Quick and easy is the name of the game, and I'm a sucker for anything with a make-ahead component.
Admittedly, I've never been a fan of using the microwave to cook meals, typically relegating it to the task of reheating leftovers and popping the occasional bag of popcorn. So I was a little skeptical when a friend first introduced me to microwave egg cups. Would the eggs be rubbery? Maybe watery?
Well, you could have colored me shocked and thrilled when I took my first taste of these microwaved eggs.
Cook in about 2 minutes. Check! The perfect texture and flavor. Check! Versatile for different taste buds. CHECK!
The sky's the limit for the ingredients you can add to these egg cups (more on that later). For this version, I went with diced tomatoes, crumbled bacon, Cheddar cheese and avocado. Everything can be chopped (or cooked, in the case of the bacon) the day before, except for the avocado. Chop it right before serving so that it doesn't turn brown.
Crack a couple of eggs into microwave-safe mugs, add a little water, then whisk to combine. Stir in the tomato and bacon, then pop the mugs into the microwave.
As the eggs cook, they'll start to puff up and rise like a soufflé, but will deflate a bit before serving. Once the eggs are set, sprinkle the Cheddar cheese over top, then add the avocado.
Other egg cup variations:
Caprese: tomatoes, fresh mozzarella and basil Southwestern: black beans, pepper Jack cheese, avocado and salsa Western: sauteed green bell peppers and onion, and diced ham Mushroom lover's: sauteed sliced mushrooms, fresh thyme and Gruyere cheese Veggie: sauteed zucchini, mushrooms and tomatoes
Do you have any other variations to suggest? Share with us below!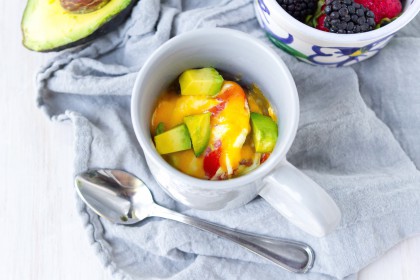 Quick Microwave Egg Cups
September 2, 2018 0
Prep Time:5 MinutesDifficulty:EasyCook Time:2 MinutesServings:2 Servings Ingredients 4 Eggs4 Tablespoons Water1/8 teaspoon Salt1/8 teaspoon Ground Pepper2 slices Cooked Bacon, Crumbled2/3 cups Diced Tomato2 Tablespoons Grated Cheddar Cheese1/4 Avocado, diced Instructions Spray 12-ounce microwave-safe coffee mugs with cooking spray.
Crack 2 eggs into each mug, add 2 tablespoons water to each and whisk to combine. Season with salt and pepper. Stir in bacon and tomato, dividing evenly between the mugs.
Place mugs in the microwave and cook on high for 60 seconds.
Stir the mixture in each mug and cook in the microwave until egg is set, about 60 to 90 seconds more.
Sprinkle the cheese and avocado over top. Serve immediately.
Dara
Dara Michalski, a Canadian ("Canuck") living in the United States, is the writer, recipe developer and photographer behind the blog, Cookin' Canuck. Cookin' Canuck is filled with healthy, easy recipes that helped her to lose 30 pounds a few years ago, and she's determined to show her readers that "healthy" does not have to equal "boring". Dara also writes about her adventures with running , including a few half-marathons and one full marathon. Dara, her husband and 2 boys live in Utah, and love to take advantage of the great outdoors, including sliding down the mountains in skis somewhat ungracefully, dodging moose on the local hiking trails and running on frozen mornings (this last one results in the ever-flattering frozen eyelash look). On special occasions, they can be found at their favorite Japanese restaurant, indulging in an obscene amount of sushi. If Dara had her choice, all meals would be made of sushi, with a side of Brie cheese. In her cooking, Dara takes classic recipes and re-works them to be healthier. She has a love of herbs and spices, and is often inspired by international flavors. Most of all, she aspires to give her readers recipes that fit into their lifestyle during hectic weekdays and leisurely weekend get-togethers.
More Posts by Dara (27)
Follow Dara: Dara's blog:
http://cookincanuck.com/
Read More