How to Make Old Bay Seasoning
How many spice jars are packed in your cabinet or pantry right now?
My guess is that you have enough varieties to not need to buy spice blends at the grocery store. Possibly so many that a spice jar avalanche occurs every third or fourth time you open the cabinet door?
We so often spend money on pre-made spice blends because we like that someone else has taken the guesswork out of creating great flavor combinations.
That's ok! Life can be hectic and we are in a hurry most of the time. Store-bought spice blends are an easy way to make dinner prep a bit faster.
Yet spice blends like apple pie spice, seasoning salt, steak rub, taco seasoning, and seafood seasoning can easily be made at home and stored in old spice jars.
So the next time you run out of your favorite seasoning in the middle of cooking dinner, there's no need to turn off the burners and run to the store.
Just google the seasoning and make it yourself!
Old Bay seafood seasoning is a fabulous blend of herbs and spice to sprinkle on everything from shrimp and fish, to roasted potatoes and corn on the cobb. It even makes a wonderful addition to salad dressings.
We use Old Bay a ton in the summer months because the strong note of bay leaves and baking spices offers tantalizing contrast to light summer flavors.
And best of all, Old Bay is easy to make at home.
Plus, you can adjust the flavors to better suit your taste preferences, make large batches of Old Bay for picnics or potlucks, or even jar it for edible gifts to pass on to friends.
Want to give it a try?
Simply pull out all the necessary herbs and spices. Measure and dump. Then stir and store.
It's perfect, of course, for seafood. But it has so many other uses! Try sprinkling your homemade Old Bay seasoning on pizza or bread sticks, stirring it into potato or macaroni salad, or blending with sour cream for a cool summertime veggie dip!
Do you have a favorite use for Old Bay seasoning? Share your tips with us!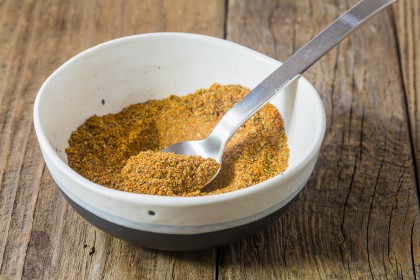 Homemade Old Bay Seasoning
June 27, 2018 0
Prep Time:2 MinutesDifficulty:EasyServings:3 Servings Ingredients 1 Tablespoon Celery Salt2 teaspoons Ground Bay Leaves2 teaspoons Smoked Paprika1-1/2 teaspoon Ground Black Pepper1 teaspoon Ground Mustard1/4 teaspoon Allspice1/4 teaspoon Cayenne1 pinch Ground Cinnamon1 pinch Ground Nutmeg1 pinch Ground Ginger Instructions Place all the ingredients in a small bowl. Stir well to combine.
Use immediately, or place in an airtight container and store until ready to use.
Sommer
Sommer Collier is a wife and mother who is always looking for ways to make life just a little more interesting. She developed a love for cooking by standing on a wooden chair, watching her mother and grandmother cook as a little girl. Then later her eyes were opened to the vast possibilities in the culinary world through a series of international mission trips and travel experiences as a teenager. After breathing in the spicy air in the open markets of Africa, India and China, she knew her life would never be the same. She started her blog after teaching cooking classes for several years with the intention of helping the average spatula owner to feel a bit more comfortable in their kitchen. Nowadays she shares easy-to-make recipes, with a touch of moxie, as well as travel content with the hope of encouraging her readers to break out of their comfort zone and taste the world around them. She lives in Asheville, North Carolina with her husband lovingly known as Lieutenant Dan (for no other reason than she met him right when the movie Forest Gump came out), two scrappy kids with highly developed taste buds, and her golden retriever Kona---because (she believes) all animals should be named after places you'd like to live. She travels with her family as often as possible, always looking for new ways to experience this delicious life.
More Posts by Sommer (58)
Follow Sommer: Sommer's blog:
http://aspicyperspective.com/
Read More